Doris Honig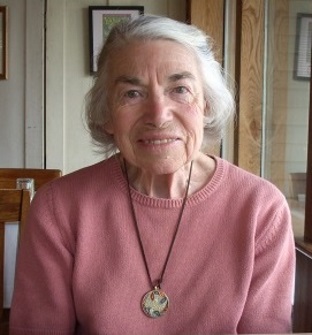 Doris was born April 27, 1920, in Madison, N.J., daughter of Eugene Albert and Doris (Brittin) Jareckie. Her parent's (better known as Dobbie and Wally) long-time residents were also very active in the community, volunteering their time to help where needed.
Doris was active in West Fairlee town affairs. She served as an election worker at the polls and as justice of the peace in recent years. She was an active member in the West Fairlee Center Community Club and helped establish the recycling program in West Fairlee and neighboring towns. Doris was a member of the Society of Friends in Hanover, N.H., and the West Fairlee Center Church. Her passing on April 22, 2016 was a sad day for all that knew her. ( Memorial Service, June 18, 2016 ).
In a letter written to church members in 1999, Doris Honig wrote:
"We appreciate anew that generation which sprang forward when the steeple threatened to fall. So many of them have already left us, the most recent being Marjorie Graves, 91, on this past March 17th, who, among other things darned the old curtains to keep them going.
They all come to mind: Margaret Eaton, moving spirit, and Mo and Rick; Dorothy Cook, Leonard Russ, Dwight and Vena Beebe, Henry Graves, Bob Adams, Buster Bates, and so many more. Everyone contributed in one way or another and shared the work as well as the excitement of the arrival of the new steeple. Everyone of these friends were THE CHURCH. The building which they worked to restore is a much-loved shelter, filled with memories and associations of all sorts."
She went on to say: "Let's hope we may be able to pass on some sense of these roots to the coming generations." It can be said that she achieved and lived that goal.
Doris was the Church moderator for many years and also had been President of the West Fairlee Center Community Club. During that time, an application was submitted to the National Historic Society to be a National Historic Site and was approved in 2002.
Photos of the Club's Plant Swap Hosted by Doris in 2008