Sunflower Quartet Concert
On Sunday, July 24, 2016, the Sunflower Quartet performed a wide variety of classical music, ranging from Vivaldi and Bach to Mozart and Stamitz, to Joplin rags, to pieces adapted from Gershwin songs, Cuban dance tunes, and Broadway shows, to recent compositions by local composers. Many of the pieces were arranged by Earl North of Canaan, NH, the group's founder and original bassoonist.
The Sunflower Quartet Quartet members Faith Goodness (flute), Carolyn Stone (bassoon), Steve Jordan (oboe and English horn), and Tom Norton (clarinet), produce a warm blend of four woodwind voices.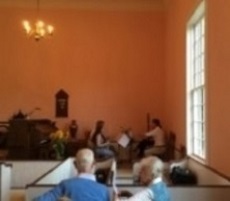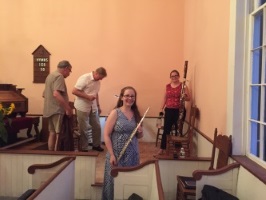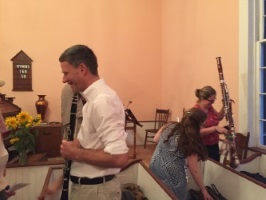 Blessing of the Animals - July 31, 2016
The first Blessing of the Animals Service was held on Sunday, August 18, 2002 and this tradition has been continued each summer.
This year's blessing was lead by Rev Dr. C. Michael Caldwell, Pastor & Teacher from East Corinth. Participants were a 34 year old parrot, 2 Russian Terriers, and numerous photos both printed and via cell phones.
Prior to the Blessing of the Animals Service, the West Fairlee Center Community Club sponsored an Ice Cream Social at the Clubhouse ( more ) .