West Fairlee Center Church & Community Club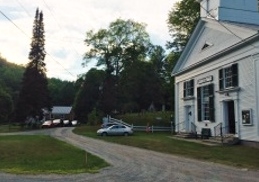 West Fairlee Center has always been a special place for past and present residents and visitors alike; and the beautiful historic West Fairlee Center Church (a much loved shelter) is an integral part of what makes it that.
Founded December 19, 1809 with six members, the first house of worship was built in 1811. The present structure was built in 1855. The building is the typical picturesque Vermont church or meeting house that represents a unique architectural form that is distinctly New England. These structures were very simple buildings with no statues, decorations, or stained glass. Through dedication, leadership and hard work of a few over the years, the building has been preserved. The West Fairlee Center Church has been listed in National Register of Historic Places since 2002.
The West Fairlee Center Church is a Congregational Church. The congregation embraces a wide variety of theological understandings striving to continue spiritual growth and to engage in faithful activities that welcome and support religious diversity in the community. Although regular year-round church services have not been held for decades, the church continues to serve as the site for weddings, baptisms, and funerals.
A Church tradition is All Faiths Prayer Service held on the Sunday after Thanksgiving. The program consists of music and prayers from religions throughout the world, each read by a practitioner of that faith. All are welcome to: Gratitude for the Earth: A Harvest Vesper Service will be held on November 26, 2017 from 3:30 - 5:00. For more information on this special service held each year, contact Cleo Kearns at 802-333-3527 or email: cleo.kearns1@gmail.com. (Interfaith Service 2016)
For more on church affiliations, click here.
The Church and the West Fairlee Center Community Clubhouse sit at right angles to each other at the principal crossroads in West Fairlee Center, at the intersection of Middlebrook Road with Bear Notch and Marsh Hill Roads. Town founder Nathanial Niles, one of Vermont's first two representatives to the United States Continental Congress, is buried in the Church's cemetery.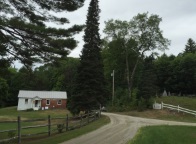 These two buildings are tied together by location, history, and the many community members involved in both. They are tangible symbols of the community for the families who live in the Middlebrook and Blood Brook valleys and nearby Wild Hill. However, they are more than just visual symbols. They are places where families of many kinds—natives, flatlanders, oldtimers, newcomers, elders, children, young families, single parents, year-round residents, vacation homeowners, etc.—come together and have an opportunity to get to know each other.
To learn more about the West Fairlee Community Club, click here.
It is hope that along with the ever challenging work to preserve these two historic buildings that through these webpages the people who have been a part of this small community over the years will always be remembered.